An Inspired Design: Terraza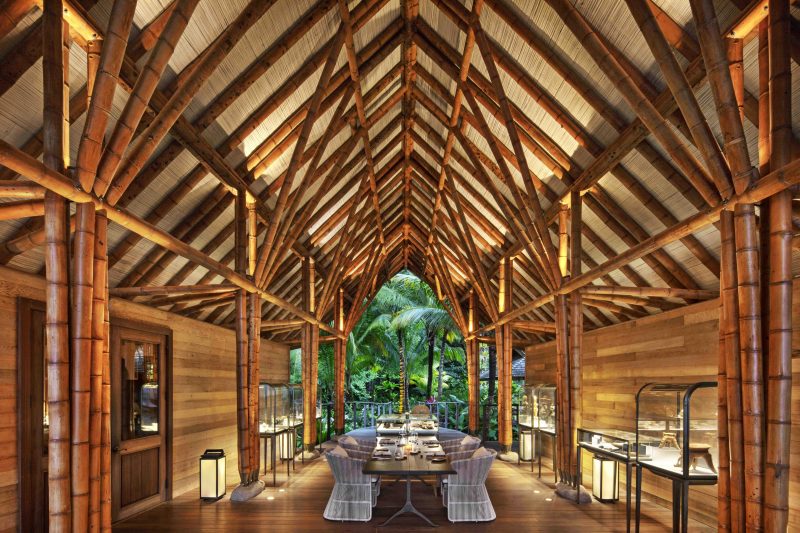 The Terraza resembles the big dancing pavilions traditionally built in Panama called "Jardines," but with a contemporary touch.
W elcome to the beating heart of Islas Secas. This is Islas Secas's dining, bar and social pavilion built with a striking exposed bamboo structure. Bamboo was chosen as the principal material because it is traditionally used in structures and decoration in Panama, still today. A different variety called "cañaza" is most frequently used in Panama, but for the Islas Secas buildings, Colombian "guadua" was chosen as it is stronger and longer lasting than Panama's national variety.
The location of the building was deliberately chosen between the palm grove and the creek, facing north between two islands and surrounding a lone mango tree, for a perfectly framed view.
The Islas Secas team worked alongside Simon Velez, a Colombian architect known for his bamboo architecture. He took the first design of the original Secas architecture team, Hart Howerton, and added his own interpretation, enriching the shape and spaces with his natural materials and high attention to detail. Velez was the main advocate to eliminate all the walls and barriers of the main dining area, realizing a vaulted, cathedral-like space.
At night, with the lamps facing upwards to the ceiling, dining becomes a real experience inside a 'cathedral of light' in the middle of the jungle.