Reach Panama City from all over the world and then it's a quick flight to our beautiful islands.
250
away from Panama City
20
off Panama's Pacific coast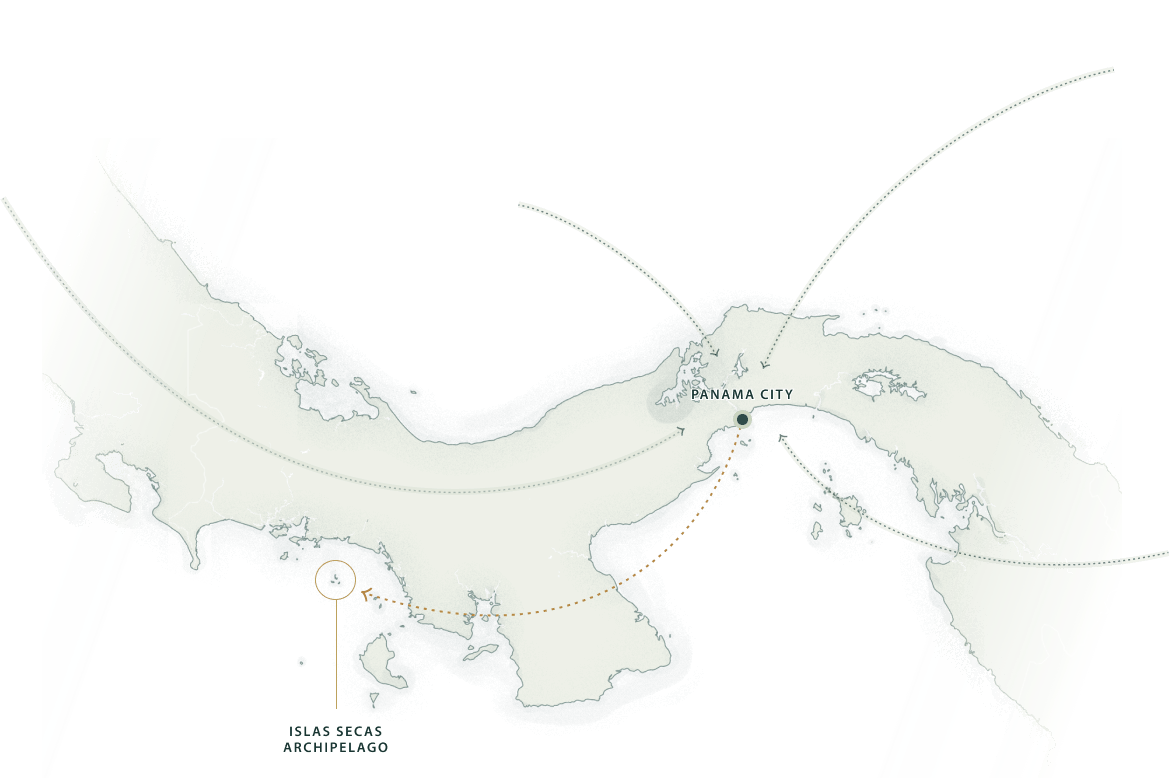 Where We Are
Our extraordinary archipelago is located 20 miles off Panama's Pacific coast. There are regular direct international flights to Panama City (Tocumen International Airport) from various hubs in the USA, South America and Europe. From Panama City, guests can take our direct, scheduled one-hour plane transfer, which lands on the private air strip on the main island of Islas Secas. For more information, please see the FAQ's below.
Private flight transfers are at an additional cost.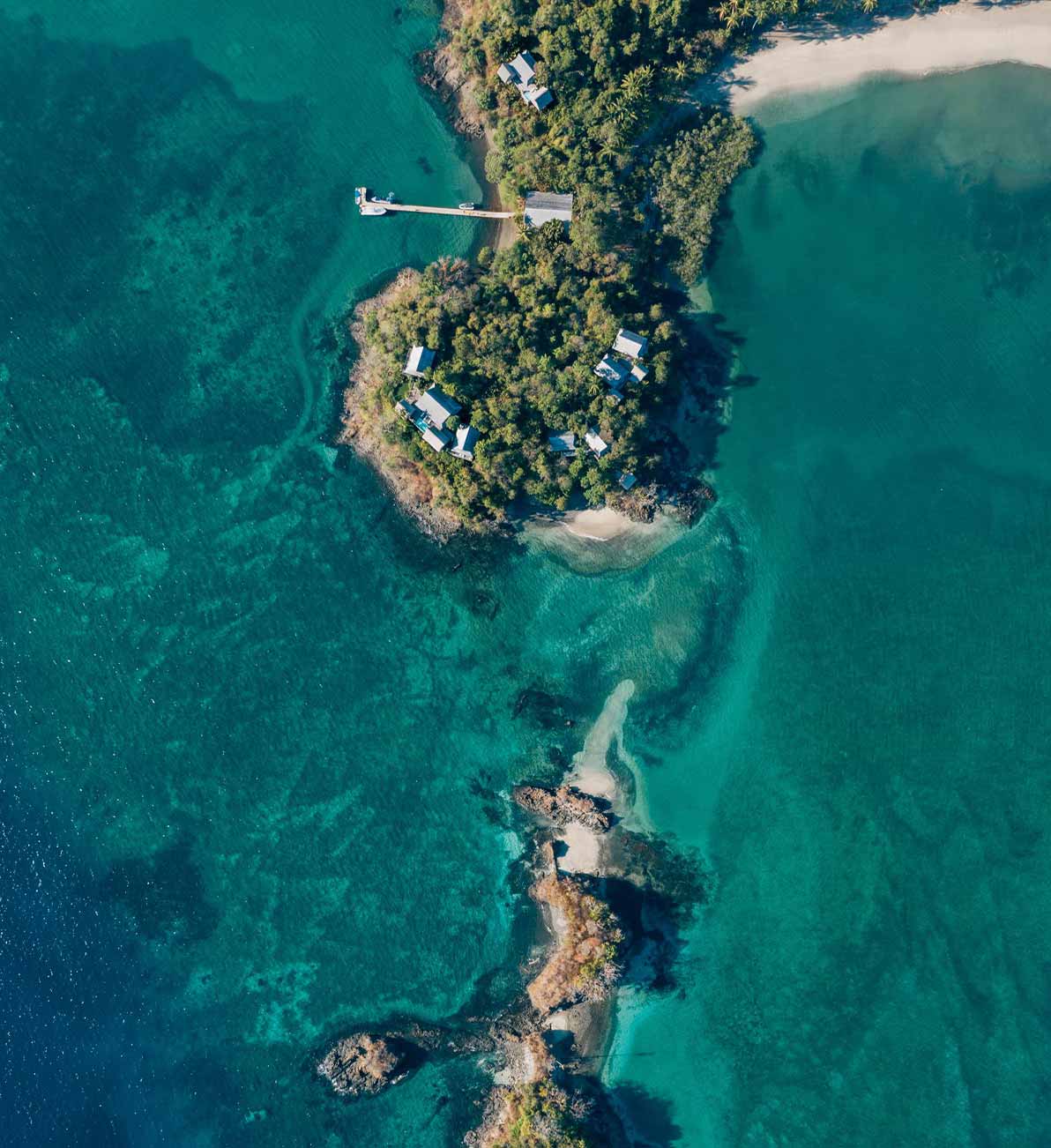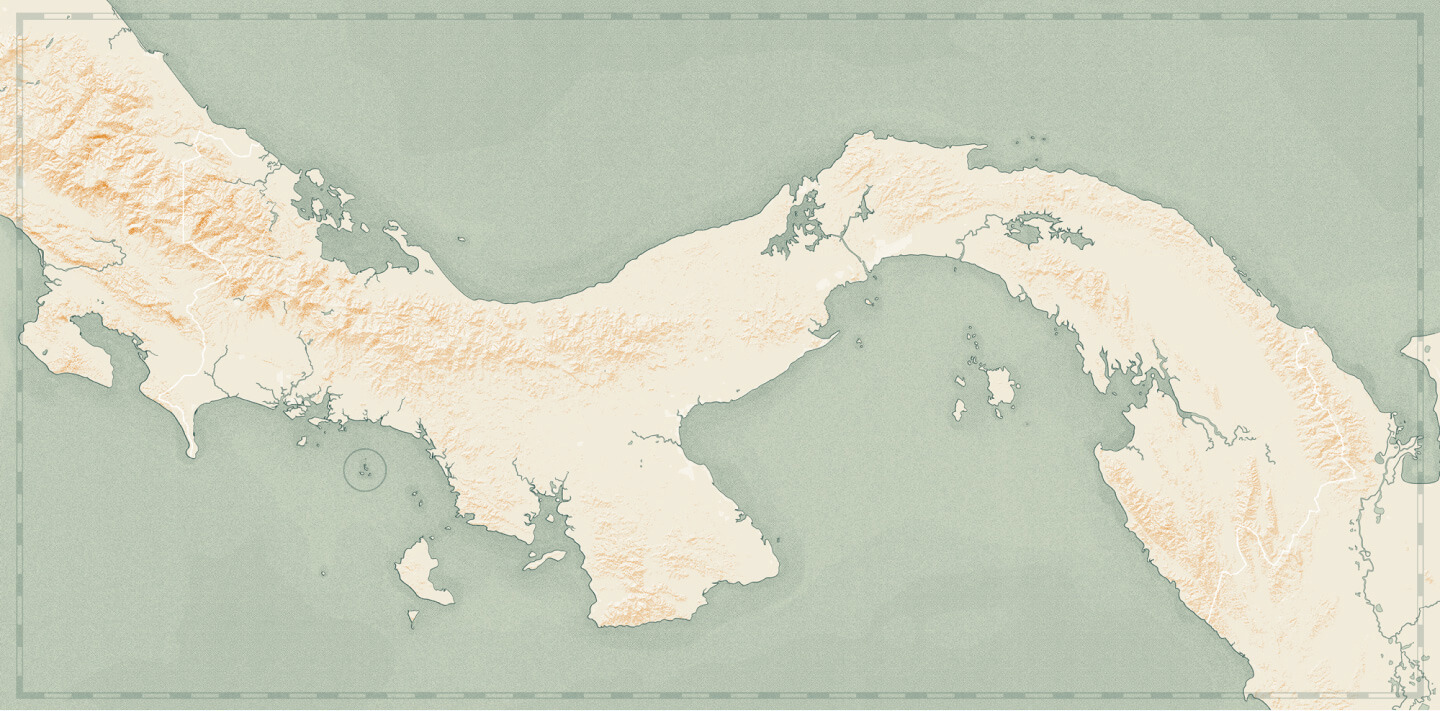 islas secas archipelago
Coiba National Park
3 Miles from the Resort
Coiba National Park, a UNESCO World Heritage Site and the largest island off the Pacific coast of Central America, is widely regarded as one of the region's finest natural wonders. Just an hour's boat ride from Islas Secas, the area hosts the second-largest coral reef in the Eastern Pacific, while the island is justifiably famous for its exceptional primary rainforest, home to endemic species.
How to reach it
We can arrange day trips to Coiba National Park for an additional fee. The boat trip takes around one hour.
Not to miss
Scuba divers should take to the depths for a chance of encounters with colorful reef fish, pods of dolphins and sea turtles, while whale watching is a must in season.
Boquete
4.2 Miles from the Resort
The misty hill town of Boquete is located in the Chiriquí Highlands, known for its coffee plantations and adventure activities, from hiking in the forest to ziplining through the lush forest canopy. The forested peaks of Barú Volcano National Park can also be found here, while the Los Quetzales Trail is a top tip for birders, with a chance of spotting the elusive and colorful quetzal bird.
How to reach it
Speak to our Activities Manager for information on our day trips here. Boquete is about 2.5 hours from Islas Secas by boat and car, and overnight stays can also be arranged.
Not to miss
The area is celebrated for its coffee and the local coffee plantations are the perfect place to sample a cup.
Bocas del Toro
155 Miles from the Resort
For a slice of Caribbean life, spend some time in Bocas del Toro, a string of islands located in the Caribbean Sea. With long, sandy beaches, islands swathed in tropical rainforest, good scuba diving and surfing, and laid-back nightlife, the area is a fun and relaxing spot to spend a day or two.
How to reach it
Bocas del Toro is a 40-minute flight from the Islas Secas air strip.
Not to miss
A local guide will make the most of your time here, from trips to local cacao farms to the top spots for surfing or photography.
Morro Negrito
4.5 Miles from the Resort
Looking for the perfect wave? The surf around Morro Negrito will scratch that itch. With multiple islands in the area offering a wide range of breaks, every level of surfer will find their perfect spot. Our in-house surf instructors will assist you in your search, and show beginners the ropes, too.
How to reach it
Easily reached from Islas Secas, Morro Negrito is a 45-minute boat trip. We recommend spending between four to six hours in the area.
Not to miss
Morro Negrito is widely regarded as one of the best surf spots in Central America, so be sure to take the advice of our surf instructor on the best breaks.
UsefulInfo
If you can't find the answer to your question, please get in touch via email or phone and we will get back to you as soon as we can.
Get In Touch
Islas Secas' private Twin Otter airplane is the quickest and easiest way to reach the resort. Scheduled airplane transfers between Tocumen International Airport in Panama City and Islas Secas operate 3 – 4 times per week depending on the season (see below).

- Peak & Festive Seasons: Mon, Wed, Fri and Sun
- Standard Season: Tue, Thu and Sun
- Arrival transfer – departs Panama City between 12:30 – 3:30pm
- Departure transfer – departs Islas Secas between 8:00 - 10:00am

To enable same-day transfers, guests need to ensure their arrival flight is scheduled to land at Tocumen International Airport in Panama City prior to 11:30am local time.


Scheduled flight transfers between Panama City and Islas Secas cost as follows, excluding 7% local sales tax*:
- 1 – 2 pax: $1,000 pp
- 3 – 6 pax: $800 pp
- 7 – 10 pax: $700 pp
- 10+ pax: $600 pp
* The fare includes VIP meet-and-greet service at Tocumen International Airport, expedited customs and immigration clearance and all ground transfers to and from hotels in Panama City (if required).


The resort's Twin Otter airplane can be chartered for private transfers to and from Islas Secas outside of the regular schedules, subject to availability. The Twin Otter may be privately chartered for flights to/from Panama City and David as well as San Jose and Liberia in Costa Rica. Please contact Islas Secas reservations for further information.

A little over one hour from take-off to landing.

The Twin Otter is a twin engine turbo-prop aircraft and was specifically chosen as the best aircraft for operations at Islas Secas due to its performance characteristics. All flights are operated with two pilots.

The Twin Otter can hold up to 15 passengers per trip although the seating capacity for each flight may vary depending on a number of factors including luggage, weather, and other variables. The interior cabin is air-conditioned and consists of leather upholstered seats and carpeted flooring. The plane is not pressurized due to its relatively low cruising altitude.

The luggage capacity on any given flight will depend upon the number of passengers. While our general rule of thumb is no more than 50 lbs (22 kg) per person we recommend guests pack lightly as Islas Secas offers complimentary laundry services. Islas Secas will contact guests to inquire about luggage dimensions prior to your trip.

The latest departure from Panama City is approx 4.30pm to land at Islas Secas in the daylight. International flights must arrive by 3pm latest (preferably by 2.15pm) otherwise an overnight stay in Panama City is required. Please speak to our Reservations team for more information and hotel recommendations in Panama City.

Children of all ages are welcome at Islas Secas, however there are many areas within the resort and the casitas where close adult supervision is required for young children. All accommodation options have plunge pools except for the Tented Casitas. All casitas including the new Tented Casitas have simple railings with large gaps that children could easily squeeze and fall through. There are considerable drops on the other side of the railings.

Unfortunately, it is not really possible to walk to a sandy/swimmable beach on the main island. Many of our guests choose to swim from the jetty in front of the Watersports Center, and they can also take the sea kayaks out from here. There are many beautiful sandy beaches within our archipelago that are perfect for swimming and relaxing, but they are all a short boat trip away from the main resort. The best sandy beaches within the archipelago are Canales or Pargo.

Pack lightly – bring hiking shoes, yoga clothing, light layers for the evening, and lots of swimsuits. Remember we are an island, so if you need any specific medical treatment or medicine, please make sure you pack them.

We have a full-time doctor and a small health clinic.

David City, a 20-minute flight away.

No cases of malaria have ever been registered in the islands nor in the vicinity.

Please visit Panama's official tourism website for the latest information.

Both. You can choose between the natural fresh sea breeze, roof fans, or AC.

Please refer to the COVID-19 policy linked in the site footer.

Our activities team can arrange a variety of activities to keep children entertained while learning and experiencing the islands, including nature bingos, treasure hunts, magnifying glasses, telescope, stereoscopes, books, games and beach toys. Older children can try age-appropriate water activities.

Islas Secas does not offer babysitting nor provide nanny services.

We get the occasional sand flies and mosquitos. Our organic natural insect repellents helps to keep them away.

We have a reef-friendly sunscreen.

We don't have a shop on the island, but do let us know what you need and we will do our best to accommodate you.

There is something to see and do in all seasons. For the most consistently sunny weather, December through to April are the best months.