Green Season
May 1 - Nov 15, 2022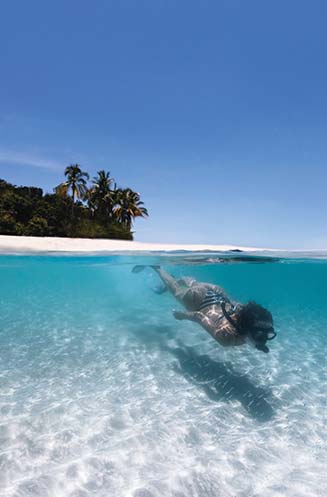 Peak Season
Dec 20, 2022 – Jan 6, 2023
High Season
Jan 7 - Apr 30 & Nov 16 – Dec 19, 2022
UsefulInfo
If you can't find the answer to your question, please get in touch via email or phone and we will get back to you as soon as we can.
Get In Touch
Children of all ages are welcome at Islas Secas, however there are many areas within the resort and the casitas where close adult supervision is required for young children. All accommodation options have plunge pools except for the Tented Casitas. All casitas including the new Tented Casitas have simple railings with large gaps that children could easily squeeze and fall through. There are considerable drops on the other side of the railings.

It's a 5-10 minute short stroll from the casitas to the Terraza. Please note that some casitas are located at the top of hill, so not ideal for guests with limited mobility.

Approx. 200m (and 30m high), or a leisurely 5-minute stroll.

All the casitas have air conditioning and benefit from cooling sea breezes.

Unfortunately, it is not really possible to walk to a sandy/swimmable beach on the main island. Many of our guests choose to swim from the jetty in front of the Watersports Center, and they can also take the sea kayaks out from here. There are many beautiful sandy beaches within our archipelago that are perfect for swimming and relaxing, but they are all a short boat trip away from the main resort. The best sandy beaches within the archipelago are Canales or Pargo.

The resort has high-speed WiFi (300 Mbps) available in the casitas, Terraza, and common areas.

• Daily made-to-order breakfast, lunch and dinner
• Most beverages including soft drinks, beers, house wines and spirits
• Fully stocked minibar replenished once daily
• All recreational and educational activities on-island including guided nature hikes
• Scuba diving and snorkeling trips within the Islas Secas archipelago (one trip per day)
• Non-motorized watersports activities including stand up paddle boarding and kayaking
• A half day fishing trip within the Islas Secas archipelago per stay
• A 60-minute spa treatment per guest (18 years and over) per stay
• Daily yoga classes."

Pack lightly – bring hiking shoes, yoga clothing, light layers for the evening, and lots of swimsuits. Remember we are an island, so if you need any specific medical treatment or medicine, please make sure you pack them.

We have a full-time doctor and a small health clinic.

David City, a 20-minute flight away.

No cases of malaria have ever been registered in the islands nor in the vicinity.

Please visit Panama's official tourism website for the latest information.

Both. You can choose between the natural fresh sea breeze, roof fans, or AC.

Please refer to the COVID-19 policy linked here (link to a COVID policy)

Our activities team can arrange a variety of activities to keep children entertained while learning and experiencing the islands, including nature bingos, treasure hunts, magnifying glasses, telescope, stereoscopes, books, games and beach toys. Older children can try age-appropriate water activities.

Unfortunately not, but if you let us know with plenty of notice, we can help with babysitting.

We get the occasional sand flies and mosquitos. Our organic natural insect repellents helps to keep them away.

We have a reef-friendly sunscreen.

We don't have a shop on the island, but do let us know what you need and we will do our best to accommodate you.

There is something to see and do in all seasons. For the most consistently sunny weather, December through to April are the best months.