Private Island Marine Safari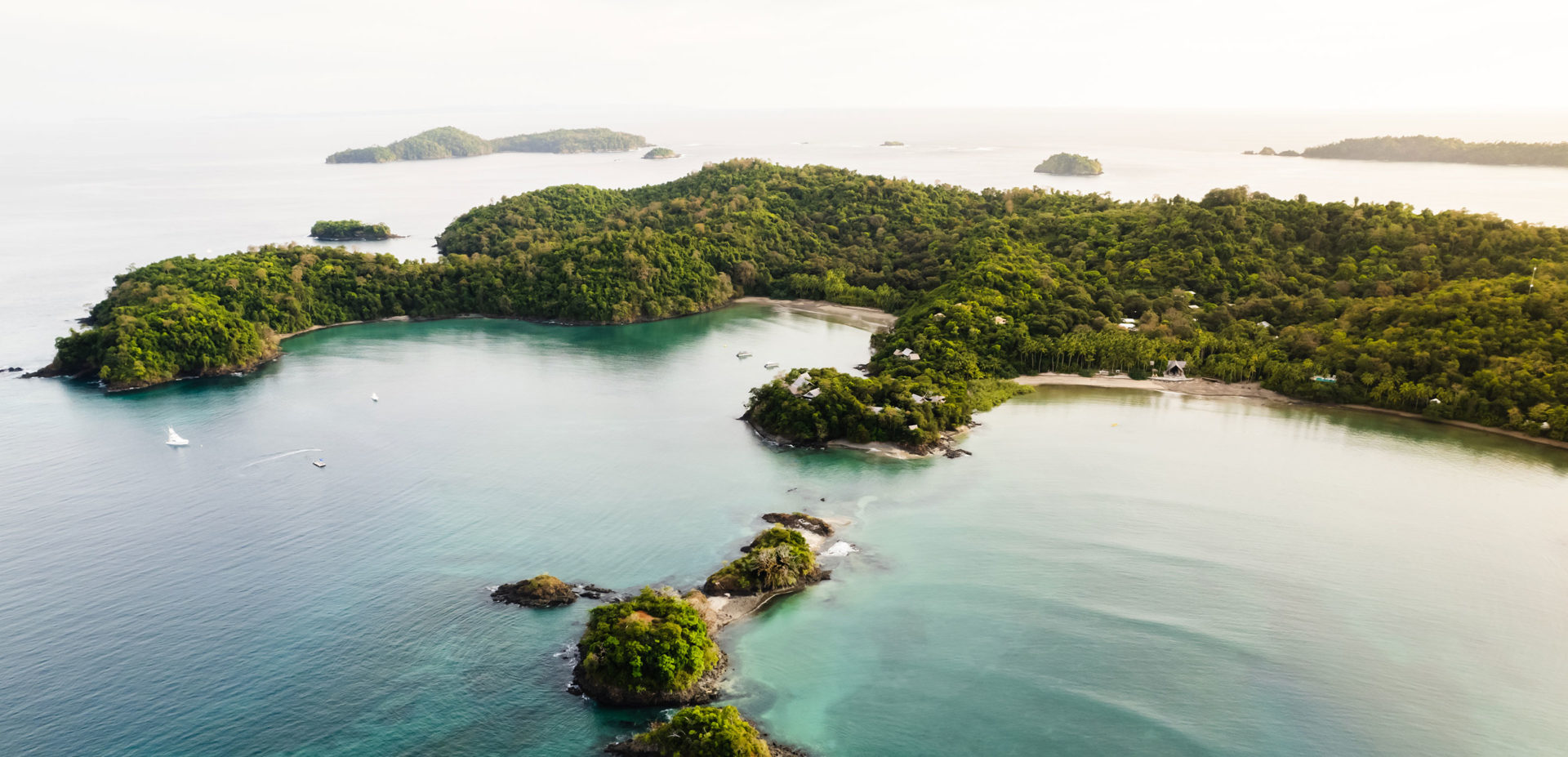 Thrill Your Entire Family with the Ultimate All-inclusive, Totally Exclusive Marine Safari
An ultimate hidden treasure
From majestic humpback whales to magnificent frigatebirds, re-wild yourself in the exceptional biodiversity around our tropical archipelago
At Islas Secas, our waters and air are teeming with life. The Eastern Tropical Pacific Ocean is considered one of the most productive oceans in the world, home to exceptional biodiversity, endemism, and species concentration, including important migratory species such as nurse sharks, giant manta, humpback whales, tuna, and sea turtles. It is our absolute delight to share our vibrant seascape and passion for its conservation with our wonderful guests.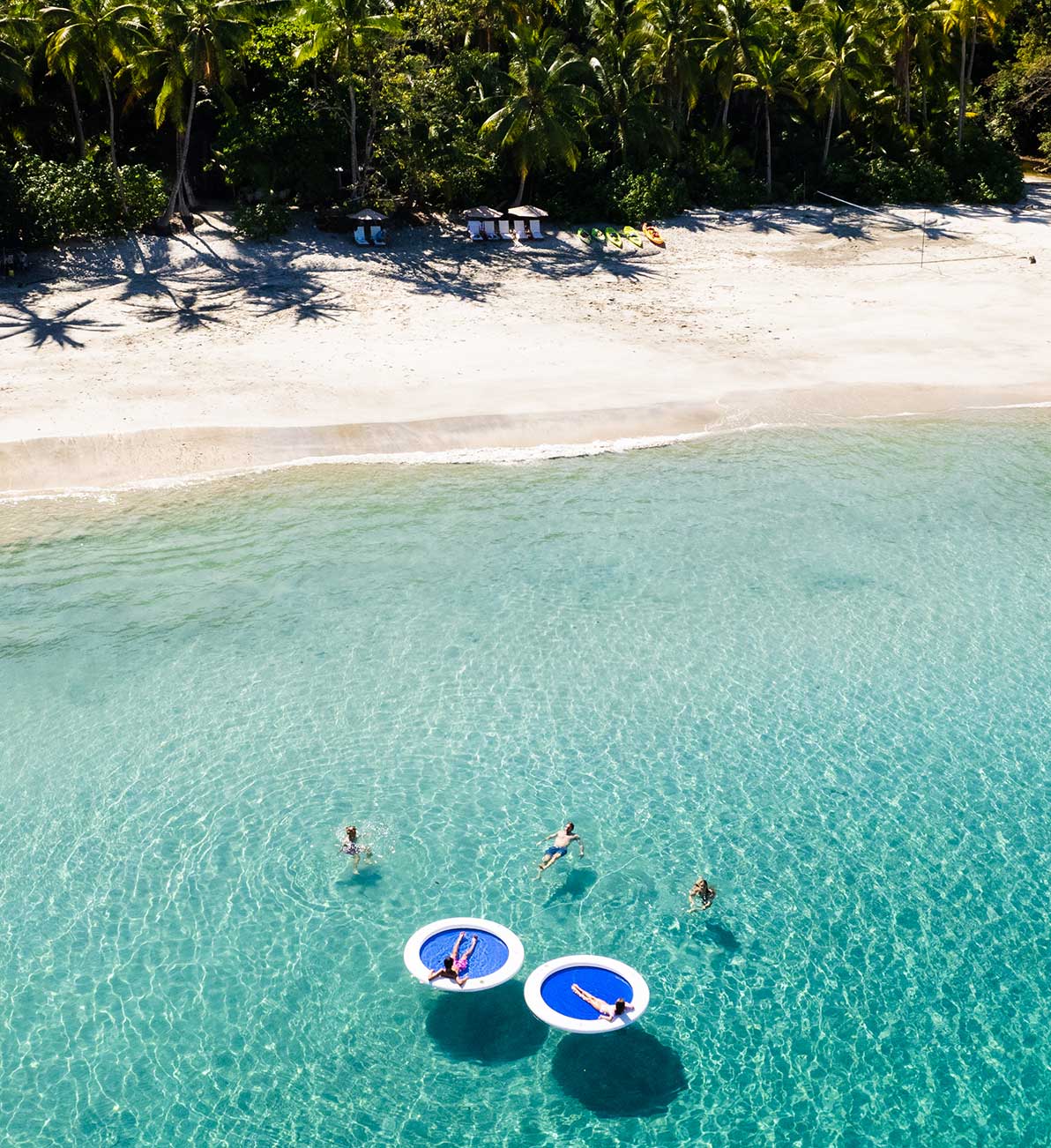 Let's build a customized itinerary that will thrill your entire party
Into the wild archipelago
Hop from Panama City to magical, Jurassic Islas Secas aboard our Twin Otter. Refresh with a cool drink and warm welcome.
Gear up for extreme kayaking to explore the stunning archipelago. Bespoke mixology at Balboa Bar for Margaritas and discussion with our Conservation experts; fresh ocean-to-table dinner at the Terraza.
Morning multisport to our Playa Limones beach – hiking, whale spotting outlook, snorkeling & kayaking. Back for lunch. Get electric with Efoil and Seabob, or snorkeling to spot sea turtles and puffer fish. Reset to Family Sound
Explore more
Breakfast and birding with a conservation expert. Journey to Coiba National Park with Whale viewing, Diving / Snorkeling + Hiking – spot howler monkeys, and more.
Return for our Jungle Beat treatment at the Spa to re-energize for dinner and telling tales of the day over cocktails.
Wake early for Cedro Grande hiking to a 300-year-old tree, then jump on a boat for a thrilling whale-watching tour. Or take a great half-day fishing tour around the archipelago. Or escape to Pargo Island to kayak, snorkel, play beach volleyball, and make ceviche with the catch of the day. It's hard to choose!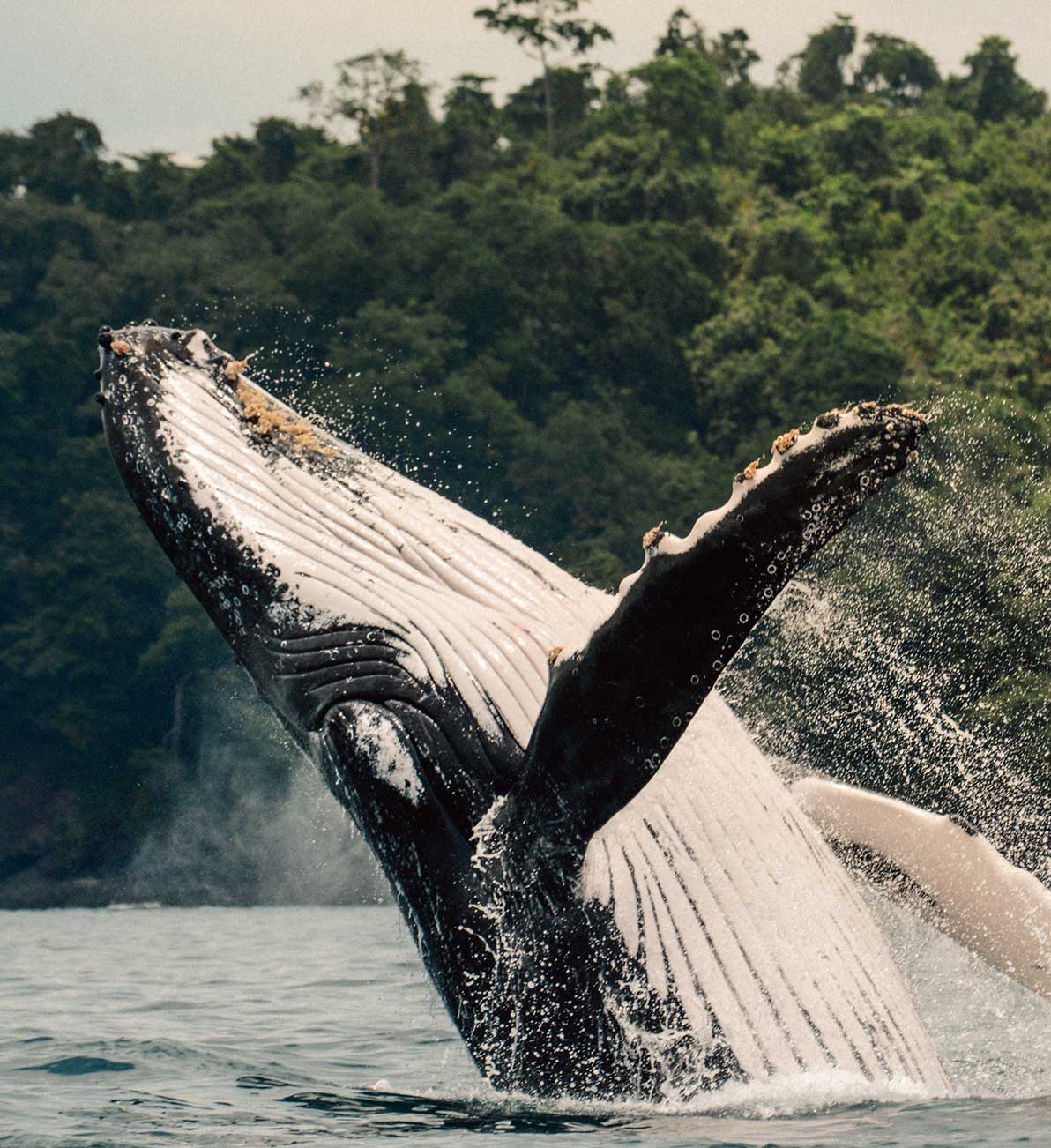 Going deep
Trek & Breakfast. Scuba dive at El Faro Island looking for Triggerfish, Jacks, and Octopus – then move to La Bruja, a remarkable dive site with an underwater cave and a pinnacle that emerges at low tide. Tell stories over lunch.
Take it up a notch with wake surfing. Enjoy your last evening, watching the magnificent sky while reflecting over a glass of champagne aboard our archipelago sunset cruise.
Wake to sunrise yoga. Explore two mangrove sites by kayak that serve as nursing grounds for juvenile fish. Today you take your Twin Otter transfer back to Panama's international airport for your flight home.
Explore our enchanting islands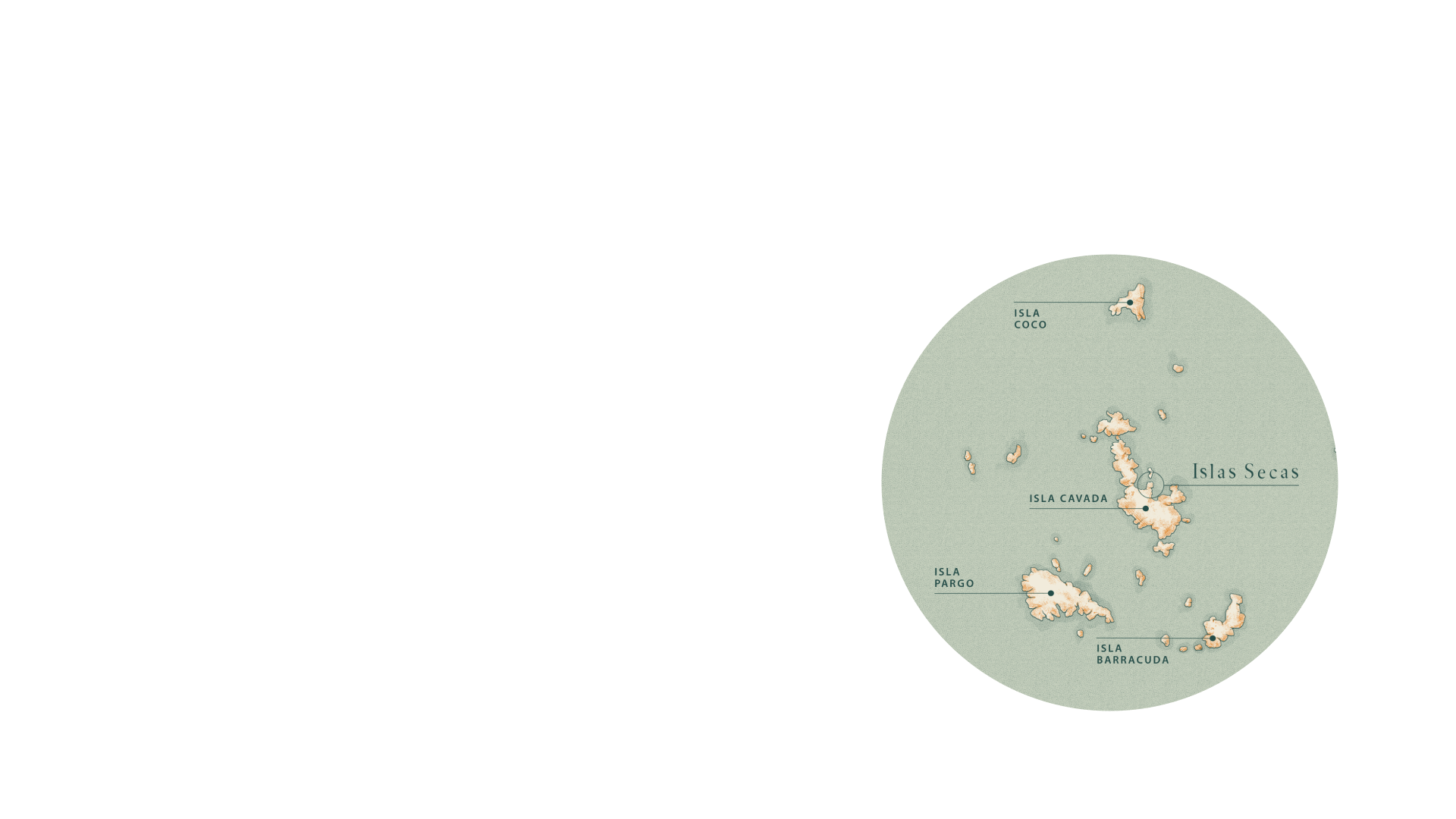 Phenomenal Ecology
Trip highlights
A robust ecosystem formed during the most globally important ecological event in 60 million years

14 incredible islands to explore in our tropical, private archipelago, 20 miles from mainland

Incredible megafauna including whale sharks, humpback whales and sea turtles

The largest magnificent frigate bird colony in Panama

Coiba National Park, a UNESCO-designated Protected Marine Area
What's included
All recreational activities on-island and within the archipelago

Scuba diving and snorkeling

A half-day fishing trip

A 60-minute spa per guest per stay

Daily yoga

All meals including outpost beach picnics and barbecues

All drinks including signature cocktails, liquors, wines, and champagne
Our Amazing Team
Conservation Manager
Beny Wilson
"Let us show your family the wild wonders of Islas Secas. We'll pique your curiosity about this unique place on Earth - one of the most biodiverse in the Eastern Tropical Pacific. We can't wait to amaze you."
Activities Guide
Fabio Trujillo
"Evening is my favorite time of the day at secas. Best places for me are Isla Cocos frigate-bird's treasure colony, Isla Barracuda and its surroundings, Punta Canales beach and the floating platform/my office."
"It's not necessary to be an experienced diver here. There are plenty of safe rocks and coral reefs around the archipelago and being surrounded by islands creates a barrier from strong currents and swells, allowing good visibility, too."
"The dream destinations are Hannibal Bank and Montuosa Island. We've been coming here for many years, and each time we get great shows of huge marlin, yellowfin tuna and amazing snappers."
UsefulInfo
If you can't find the answer to your question, please get in touch via email or phone and we will get back to you as soon as we can.
Get In Touch
Islas Secas' private Twin Otter airplane is the quickest and easiest way to reach the resort. Scheduled airplane transfers between Tocumen International Airport in Panama City and Islas Secas operate 3 – 4 times per week depending on the season (see below).

o Fall to Spring: Mon, Wed, Fri, and Sun
o Summer: Tue, Thu, and Sun
o Transfer to Islas Secas: between 12 and 3 PM
o Departure from Islas Secas: between 8 and 10 AM

To enable same-day transfers, guests need to ensure their arrival flight is scheduled to land at Tocumen International Airport in Panama City prior to 11:30 AM local time.

Pack lightly – bring hiking shoes, yoga clothing, light layers for the evening, and lots of swimsuits. Remember we are an island, so if you need any specific medical treatment or medicine, please make sure you pack them.

We have a full-time doctor and a small health clinic.